Busy weekend. Got almost nothing done.
Sad, sad, sad.
I had planned to post this on, like, Friday night, but alas... no go. So here it is, Tuesday morning and I'm just now getting around to it.
It's finally feeling like Autumn. My favorite season. I hate how it lasts for such a short time, though.
I am completely in love with everything that this time of year brings... bonfires, hoodies, changing leaves, pumpkins, Halloween...
That list is a long one folks...
Anyhow. To get back on point. I did finish up a monstey for a friend's birthday this weekend: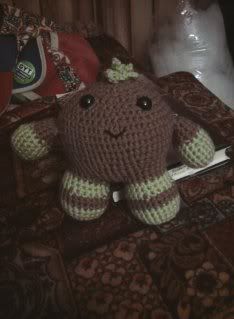 To keep with the crochet theme, I also joined the Pumpkin Patch Crochet-Along.
I am super excited, if not just a teensy bit nervous, about this... It's gonna be a lot of fun and you should definitely take your little butt over to
The Itsy Bitsy Spider Crochet
and check it out.
Lastly, like I said, I am mega-excited about it being Autumn now, so I leave you with some wonderful images of Autumn from
WeHeartIt
.