I was in need of a little sunshine today... what with the ugliness of all that snow that needed shoveling outside my little home this morning... and with my car being buried up past it's doors so that I was unable to leave my house till my boy dug it out. ::sigh::
I was pleasantly surprised to find that the sweetheart that does
NightOwlCraftWorks
blog has given me a nice little sunshine award. Super sweet of her.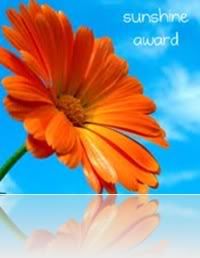 Now, I get to pass it along to some of my own lovelies...
And in no particular order:
AppleNoggin
ChetandDot
SkunkBoyCreatures
JennaDesigns
ErinSunday
Okay. So. Now, once you get word that I've given you this award here are the "rules" you should follow (if you want to... I'm not pushy.)
Here are the Rules:
1. Put the logo on your blog or within your post
2. Pass the award on to other bloggers
3. Link the nominees within your post
4. Let the nominees know they have received this award by commenting on their blog
5. Share the love and link to the person from whom you received this award